Freebird's Key Ring collection is inspired by the beautiful paradise island of St. John. As you brouse through our ever growing eclectic selection of key rings below. We hope you will find one that you like. We like to think that, "Freebird has something for everyone"!



Petroglyph Key Ring, Sterling Silver
This beautiful key ring is made of fine sterling silver with a polished finish. It is approx. 1 1/2" high x approx. 2" wide. The ring is approx. 1" diameter.

St. John Sandal Key Ring

This Sandal Key Ring, aka: our exclusive "St. John Running Shoe", is made of polished fine .925 sterling silver. The sandal is approx. 1 1/2"h x 3/4"w. The ring is approx. 1" in diameter.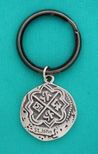 Treasure Coin Key Ring
This swashbuckling Key Ring is a replica of an actual "Pirates Treasure" coin, inscribed "St. John". Crafted from .925 Sterling Silver with a Stainless Steel ring, the coin measures approx 1" in dia.



Remember... YOUR SATISFACTION IS GUARANTEED!
You always get a 10 DAY FREE INSPECTION of any item selected from our collection. If you are not totally satisfied for any reason with any item you've received, simply contact us within 10 days of the invoice date. We stand behind our fine products and will ensure your satisfaction. E-mail us at: info@freebirdcreations.com or call us at 1-340-693-8625

Freebird Creations.com